"Oh my GOURD. This pumpkin spice latte from folio café is SQUASH goals."
Alright, so you may get tired of really bad pumpkin spice puns, but I can guarantee you'll never get tired of the one, the only, folio café pumpkin spice latte (PSL). This cup full of spicy fall magic is something folio-frequenters wait for all year long. I talked to barista Nicholas Willms about the beverage and learned a LATTE about the famous flavour.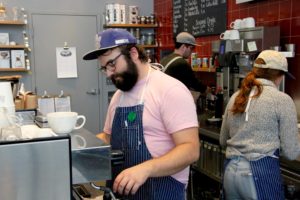 So Nicholas, what makes folio's PSL so special?
"One thing is that we actually make our own syrup from pumpkins grown at the farm right here on campus, by the Metanoia [Farmers Worker Cooperative]. That's a big thing. We're also not big fans of super sweet drinks, so we make our syrup a little less sweet so the focus is really on the pumpkin and the spices, not on how sugary it is."
Thank you Metanoia farmers for making our PSL dreams come true! Can you tell me a bit about the process? What happens from the moment I order a PSL to the moment I hold the mug in my hands?
"It's very easy. We put the cup on the scale and weigh out one ounce of the pumpkin syrup that we've made. Then we pull an espresso shot, steam some milk, pour it, make a little bit of latte art if we're feeling a little artsy, and then we hand it over."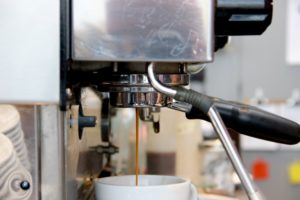 And then we sip and smile. So I'm looking at the menu board, and you have another pumpkin spice drink! Tell me more.
"So we also have the pumpkin chai, which is a chai tea latte but with our homemade pumpkin syrup, which I think is a nice twist. It gives the chai latte a little extra flavour, a little extra spice. It makes for a fun change!"
Mm, that sounds delicious. I'll be sure to tell all my chai-loving friends about it! Speaking of my friends, I have plenty of pals who look forward to the pumpkin spice season all year long. What's the hype like leading up to adding the drink to the menu?
"People were asking for it for a couple weeks, even before it was up on the menu. We had to tell them that we didn't have any pumpkins yet, so we couldn't make it yet. But once it was up there, people got pretty pumped about it."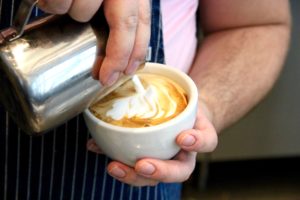 People including me. I think I audibly cheered when I saw that it was back on the menu. What's your personal favourite part about pumpkin spice season at folio?
"I think it's really cool to be able to make things from stuff that's grown right here. I think it makes it taste better, I think it makes it more special because you could walk past the farm and see an actual pumpkin, and then be drinking it in a latte."
Three cheers for a farm-fresh, subtly sweet, extra spicy, pumpkin dream of a drink! Thank you so much Nicholas for indulging me in this interview about one of my passions. Now, I just have one more question for you…
Could I order one PSL please?
– Chloe Friesen, 3rd-year Communications and Media student