Mennonite Central Committee (MCC) and the United Nations (UN) held a student seminar in New York City this past November called, "Ukraine and Armed Conflicts: Pursuing Justice and Peace." This event was created for undergraduate students in Peace and Conflict Transformation Studies or other related fields. As two CMU students who took part in this seminar, we have written a reflection on the event.
We stepped out of the elevator on the second floor of the Church Center of the United Nations in New York City, where Travis Dyck, one of the organizers of the seminar, welcomed us. The room's large windows looked out directly onto the 193 flags that embellish the looming and glorious buildings of the UN headquarters. As we gawked, other undergraduate students trickled in and found their seats. Soon, the seminar was underway.
We had no idea what to anticipate in attending the MCC/UN Student Seminar. The purpose of the event was to bring together students to wrestle with the central question: "How do we pursue justice and peace in places of armed conflict, such as Ukraine?" It was difficult not to feel intimidated by such a complex question. At times, we wondered why MCC and UN representatives chose to devote their time to university students with no authority. With more time, it became clear that the seminar existed to communicate that, regardless of authority, we are relevant stakeholders.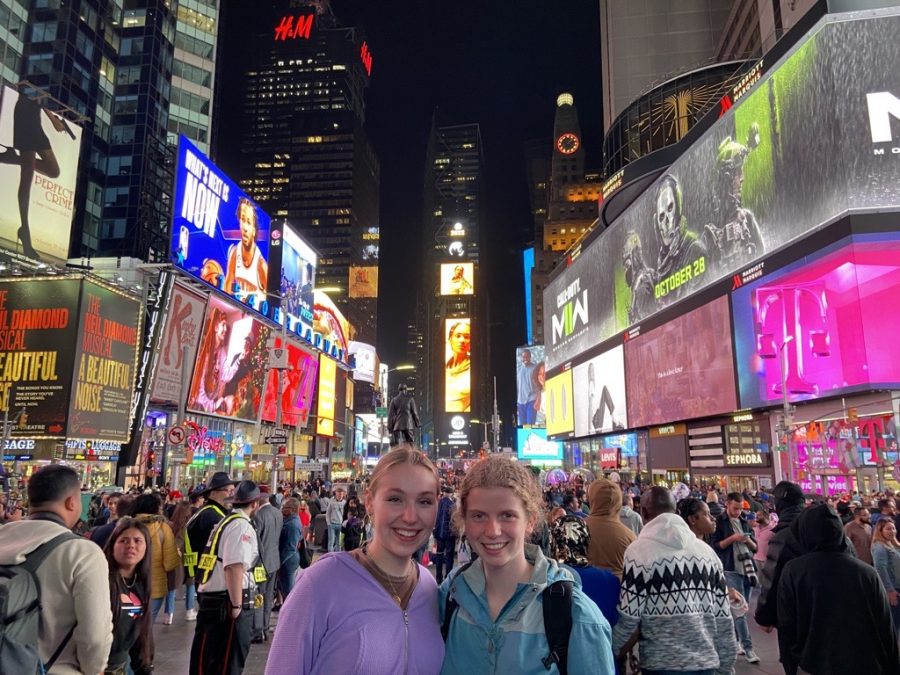 Our time in New York was quick and a whirlwind of new experiences and opportunities. Every morning, we walked to the seminar through the lively and bustling streets of New York, attempting to take in as much as we possibly could. In the evenings, we met up with other students attending the seminar to explore the city. Although we all came from different contexts, holding unique sets of experiences, a sense of community was immediately established as we navigated through these exciting experiences together. One evening, we took the Staten Island Ferry to see the Statue of Liberty and get tacos. As we stood outside on the balcony of the ferry, looking out at the city lights, we were able to unpack the different stories and messages that arose throughout the conference.
Over the three-day seminar, seven different presenters informed us on their approaches to peacebuilding from their own contexts, several of which are countries currently facing violence, including Ukraine, Myanmar, and Democratic Republic of the Congo. At the end of each day, we all gathered in small groups to reflect on what the presenters had talked about. This was a great way for us to make meaningful and more personal connections with other students. Discussing peacebuilding initiatives with them was uplifting and hopeful. The conference became a space where honesty, questions, and difference in opinions were welcomed.
It is difficult, yet critical, to retain optimism in peacemaking work. Some of the speakers who presented to us spoke honestly about their pessimism regarding violence in Myanmar and Ukraine. Although this was hard to hear, there were also many speakers who shared experiences of faith in nonviolent practices. We take hope in knowing that there are knowledgeable, intentional people in government and UN roles, and thoughtful, justice-oriented young people moving into the working, peacebuilding world in Jesus' name. In this way, communities of faith are working toward transforming conflict all over the world.
Jillian Recksiedler (second-year) and Danika Warkentin (third-year) are Bachelor of Arts students, majoring in peace and conflict transformation studies.