As a bright-eyed 18-year-old looking at the overwhelming number of universities to choose from, I settled on CMU for one reason that stood out from the rest: the impact of faith on community and vice versa. I knew that finding a community that would simultaneously challenge and inspire me in faith is what I needed to supplement my university experience.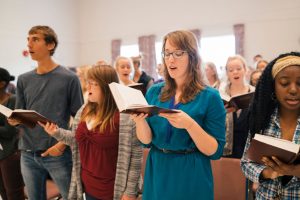 My first year was wonderful for me. I was part of a group that led Wednesday Night Worship monthly and I attended a fellowship group on a weekly basis. And I always had the opportunity to attend chapels during the week if I so desired! I had the ability to grow my faith at my fingertips. Even though my second year was busier, I still felt like I had a solid faith community to hold me as I deconstructed and built up my understanding of my faith.
And now, here we are! With Wednesday Night Worship on hiatus, chapel online, and other extra events either cancelled or happening virtually, I lament what cannot be this year. With a year having passed since we were asking ourselves whether or not Covid-19 would even affect us here in Winnipeg, I find myself thinking that I should be done lamenting what cannot be. But honestly? I don't think I am yet. Yes, I want to recognize that I have a lot of good going on, and I'm blessed that we have the hybrid learning model! But that doesn't change the fact that I still feel this sadness that comes with the loss of faith and community in the way I know it.
Don't get me wrong, I think this is the right decision. CMU has done an excellent job at creating a healthy space for students to learn and engage with class content in-person. And we must do what it takes to ensure the safety of all students, staff, and faculty. I guess what I'm trying to say is that it's hard to navigate both knowing that this is for the best, and wishing it could be another way.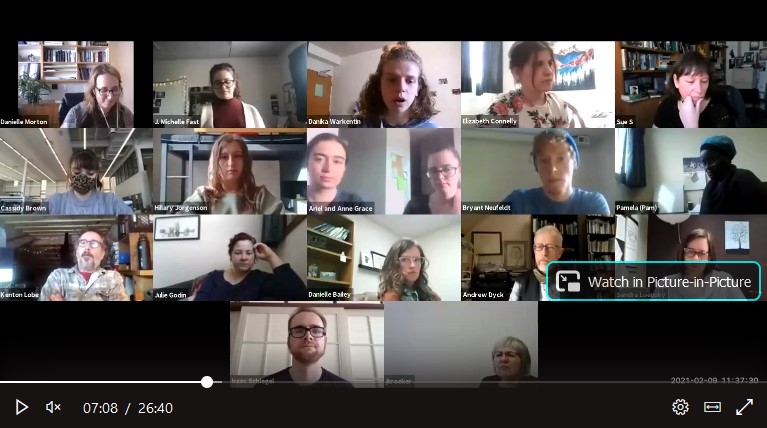 I've frequently had to remind myself that faith is rarely easy, and that I am called to rise to the occasion of engaging in my faith, even when it's challenging. I went on the search for some news articles, to see what other people and faith communities had to say about this topic. I came across an article from the BBC, and the most compelling part of this article is an interview with Bruxy Cavey, pastor of the Meeting House. "We've seen not only the numbers grow, but the kind of people, the people who wouldn't typically feel comfortable even going to church, or setting a foot inside a new church . . . Covid has slowed us down and destabilised our regular routine. It has become an exploratory time. People are developing new habits, new interests, and finding new ways of just being in this world," Cavey says in the article.
I also found an article from the Mennonite Brethren Biblical Seminary on what it means to live as Christians in pandemic times. It reads, "Psalm 46:1 reminds us that 'God is our refuge and strength, an ever-present help in trouble.' The psalmist continues by reminding us that God's presence allows us not to fear the calamities that may befall us. What is not promised is that we will be prevented from experiencing problems and trials. Rather, God's promise is that he will be our source of strength to persevere and endure through them."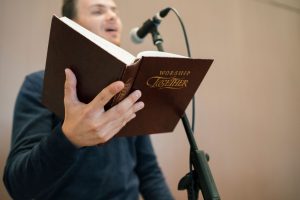 So how do we allow ourselves to lean on this? I believe that we have the capabilities to create and invest in faith communities, and hopefully it's not too far off that we can continue harmonizing in the chapel. It often seems hard to dive deep into our faith when it looks so different from what we're used to, but I continue to find people who challenge and encourage me in my faith.
Even though I wish we could return to everything as normal, I've been challenging myself to think creatively in these times. I'm eternally grateful for the ways CMU has helped me through this.
If you're looking for more places to engage in faith communities, I encourage you to check out CMU. If you're already a student, read the CMU Daily for all events! Chapels and small groups are an excellent place to start, and there's bound to be something there for you.
Cassidy Brown is a third year Peace and Conflict Transformation Studies student.