Canadian Mennonite Bridal College? That was how CMBC, one of CMU's predecessor colleges, was commonly referred to when both my parents were students there back in the 90's. As the joke implies, students seemed more focused on finding a life-long partner than getting a degree! Imagine that…
CMU has changed substantially in the past 30 years, and one program that has changed a lot is Athletics. Just like my folks, I will be playing on the CMU volleyball team, however there are a few key differences.
While my Dad was a "Butterchurner," I will be a Blazer. Currently, CMU has one unifying name, the Blazers, which represents all the sports teams. But when my Dad played volleyball, their team could choose their name, and somehow the "Butterchurners" won the vote. Secondly, I will be playing in the beautiful Loewen Athletics Centre, while the "Butterchurners" played out of the Shaftesbury High School Gym.
The level of play has also greatly improved. When my Mom played, they held open tryouts in September, and essentially took everyone who showed up. (She also claims that she may have been serving underhand.)
Like my parents did, I know I'll be playing alongside a wonderful group of people, and many memories will be made throughout the season. I can't wait to take my volleyball skills to the next level as part of the Blazers Athletics Program.
I'm also looking forward to being a part of the strong faith community and building life-long friendships. Growing up in Selkirk, MB, I never had the opportunity to explore my faith in a school setting, so I'm excited to be immersed in a new environment that encourages me to grow in my faith.
Based on my experiences so far, the community at CMU is inviting, caring, and most of all, accepting of everyone! Moving into residence will be a big transition for me, but it's comforting to know that I'll be welcomed with open arms.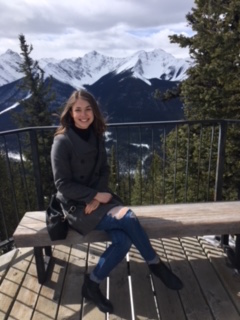 Both my parents are still in touch with people they met in dorm, and those friendships have taken our family on travels to places like BC, England, and Germany.
Back in the day, there weren't nearly as many courses to choose from compared to today. When I first received my registration guide in the mail, I was overwhelmed by all the courses that CMU offers. I wanted to enroll in more than my schedule could hold, which is a good problem to have! The course selection has diversified, and the academic opportunity has expanded.
I can't wait to finally graduate high school on June 28th! To me, that diploma will represent the beginning of a new adventure full of life-long learning, athletic endeavours, and lasting friendships. Go Butterchurners… oops I mean Blazers! What better place to embark on this adventure than at CMU?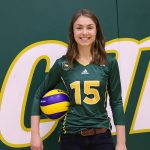 Annika Loeppky is entering her first year at CMU this fall. She hails from Selkirk, Manitoba.