Every student who graduates from CMU does a practicum placement. It doesn't matter what you're majoring in, whether you're completing a three or four-year degree, or whether you know exactly what career you want (fun fact: it's okay if you don't). Every single student does a practicum. And if you ask any student here about their practicum, they are bound to tell you story after story about why the experience is SO very worth it.
Jana Klassen is one of these people.
Jana is a fifth-year science major, captain of the women's volleyball team, and a hard-core animal lover. When she walked into the practicum advising office last year, she expected to leave with a bit more direction in her step, but she never expected that these next steps would lead her into the veterinary offices of the Assiniboine Park Zoo. I sat down with Jana for a conversation about her wild practicum experiences…
So Jana, I know that you LOVE animals. How did that begin?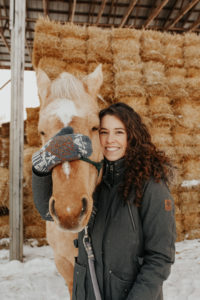 So growing up, we lived in the city (Calgary), we had a dog which was super great, but my cousins lived a few hours away and they had a big farm with horses, rabbits, cats, and dogs. A random assortment of animals was always around. It was through that relationship that I wound up getting my own horse that lived at a family friend's ranch. I got exposed to even more animals there. They had sheep, chickens, a donkey… I helped out around the ranch, and even got to experience a lambing season which was a great experience.
When did you realize you wanted to work with animals one day?
I think that was something I always really knew. I remember in the third grade I told people I wanted to be a marine biologist, even though I was scared of water. My true dream was to be a vet, though. I just thought marine biologist sounded cooler!
What was the process like when you decided it was time to do your practicum?
It was surprisingly easy! I went to go talk to a practicum advisor and they said, "Okay, let's talk! What are you studying? What are you interested in?" So I said I was interested in physio or maybe vet, and they asked if I'd be interested in working at the zoo. And I said "ABSOLUTELY – YES!" I met with my supervisor, and everything was a go!
So, what do you get up to at the zoo?
I've realized that in the setting of a zoo, there's not a super structured schedule that vets have. There are a few routine exams, but a lot of it is based on the specific needs of each animal at that moment. Basically, I get to join the vet team and observe, help where I can, and ask questions!
What's your favourite animal to spend time observing at the zoo?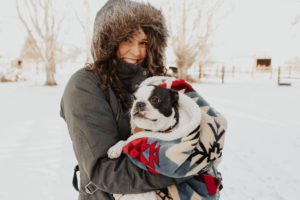 Right now, I'd have to say the polar bears. I know they're a classic, but they are just SO cute and SO big. Every time I've walked through their exhibit, they are so happy and playful, kind of like big puppies.
How would you say your practicum has prepared you for your future?
Overall, it's really expanded my knowledge of not only animal health but animal welfare. Also, since zoo settings are more focused on conservation, it goes beyond just the clinical aspect of being a vet. There's a broader focus on things like climate change and endangered species. It's opened my eyes to the fact that veterinary medicine isn't just used for pets or livestock, but it can solve problems on such a broader scale. I had never thought about that before my practicum.
What will you take away from your practicum experience?
Having this much exposure to such a wide variety of species is something I don't think many science students have experienced before, and aside from how mind-blowing it is to get up close and personal with these animals, the experience also strengthens any resume that I'll write in the future. Also, seeing how deeply the vets that work at the zoo care about these creatures is something I'll never forget.
As we know, every single student at CMU does a practicum placement. Do you think this is beneficial?
It is ABSOLUTELY beneficial. This has been the best part of my year. Going into practicum I was like, I'll find something to do just to get it done and get the box checked, and now I would highly recommend this to everyone. I'd do it again if I could! It's so much more than checking a box. It's strengthening an application and providing incredible real-world experience.
Thanks again for chatting with me, Jana. I'll have to go wander around the zoo again sometime soon!
Chloe Friesen is a 3rd year Communications and Media student.