I've never been all that great at sports, which is a funny thing to say, seeing as I'm on the CMU Women's volleyball team.
Contact-sports frighten me (no need to push, just ask for the basketball and I'll probably give it to you), my lanky limbs usually don't work well as a team (if I'm kicking a ball you're all in danger), and strapping shoes with blades to my feet and putting me on ice?! What are you thinking (I still don't know how to stop on skates, I just turn in circles or brace for the boards…).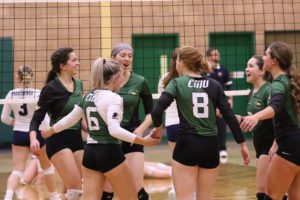 But something about volleyball just kind of clicked with me, and I'm so grateful it did, because I love sports. And I love them for more than just the game, or the points, or the jersey. I love them because of what happened yesterday, the day of our volleyball home-opener. Let me explain…
The day started off like any other Wednesday: I woke up, ate breakfast, and headed off to my Group Communications class. Following class was practice time. But, instead of using our typical afternoon practice slot for, well, you know, practicing, our coach (the illustrious Jayme Menzies) had arranged a different way for us to spend the afternoon.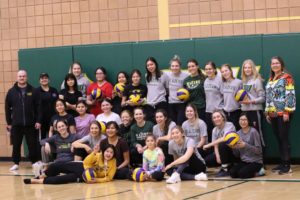 Cue our new friends from Fisher River Cree Nation. Ten wonderful girls who came for a day packed with their favourite sport. Like with any new situation, the girls were timid and quiet at the beginning. We were all different ages, all had different stories that had brought us here, and you could feel a tenseness in the space due to the newness of the situation. But set up a net and toss in a ball? We had a noisy gym full of new friends in no time.
This is why I love sports.
We spent the afternoon practicing our volleyball skills, cheering the girls on, and celebrating every point like it was the game-winner of the finals. It was by simply standing on the court that I learned that my new pals loved Instagram too, that some of the memes I was using were outdated, and that sometimes the smallest girls jump the highest. Seeing these young girls gaze up at our Blazers with the most attentive grins, hanging onto every word and piece of advice we gave, was something I'll never forget.
This is why I love sports.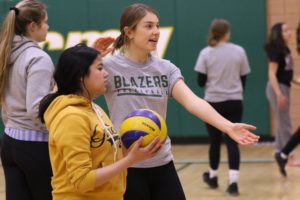 With a "THREE, TWO, TEAM!" we said our "see you laters" (the girls would also be attending our game that night) and headed out to our respective classes or study sessions. We at least had to do a little bit of schoolwork before the big game that evening.
Now, volleyball home games usually draw in a few fans, but little did we know that Residence Director and resident Blazers hype-man, Charlie Peronto, had a little something up his sleeve. What do you get when you put together a DIY poster station, free Halloween candy, costumes, and hilarious between-set games? Bleachers full of classmates and friends, hooting and hollering, blowing off some mid-term season stress and life's troubles in the very best way. It was a gym full of joy like I haven't felt before. That's the only way I can put it.
This is why I love sports.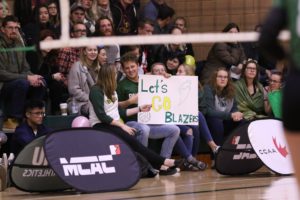 Sure, both the men's and women's teams won their matches in straight sets (#goblazers), but that wasn't close to the highlight of the evening for me. It was glancing at the stands while I was grabbing water from the bench and seeing a sea of people who I love so dearly, cheering, laughing, and dancing. It was congratulating and celebrating with my teammates after each point, and feeling so grateful that they are also my friends. It was waving to the girls from Fisher River Cree Nation, wearing their new Blazers jerseys with the biggest smiles.
This is why I love sports.
– Chloe Friesen, 3rd-year Communications and Media student