Taanishi (Tawnsheh), Bon Matain (Bon Mah-tane), Cassidy Dishiniikashon (dish-i-nik-ah-shhun). Good morning, hello, my name is Cassidy. Entering CMU a total of 6 years ago, I would have never guessed that today I would be introducing myself in my ancestral language of Michif, which I think is indicative of the change I have undergone here.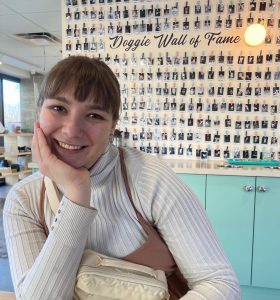 I am in my fourth and final year of a Peace and Conflict Transformation Studies (PACTS) major, with a Biblical and Theological Studies minor. My CMU journey started in 2016, when I departed on the Outtatown program, bound for Guatemala.
At that point, my encounters with my faith had been fairly surface level, not really ever having been in any places where I was having to question it or think critically about it. In this way Outtatown challenged me. I felt confused as I encountered people from numerous different Christian backgrounds and ideas of what it meant to be a follower of Christ. It's hard to deconstruct your faith when you don't really have words for what you're doing, but looking back, I know that's what was happening. As hard as it was, I made it through with incredible friendship and community.
I took another year off school before starting my PACTS degree at CMU and I was enthralled. I won't lie, high school for me was pretty miserable and tough for many reasons, so coming into CMU with 60% averages in my classes, I will never forget the feeling of my first A grade. My professors were people who not only encouraged me, but challenged me. It seems too cliché to say, but having personal relationships with my professors at CMU is really what I think helped me succeed. School was tough, but I was having a ball.
However, that's not to say that my time here has been without its challenges and heartaches. In my second year, October 2019, CMU lost Taylor Pryor, who was on my Outtatown site and a good friend of mine. It was a loss that sent ripples of heartache and pain throughout the CMU community. But we held each other. My peers held me and I held them, and my professors were not only accommodating but held me with grace and care—for that I'm grateful.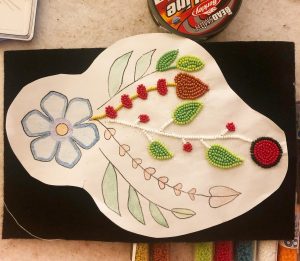 This time marked another important point in my CMU journey, and that was my discovery of my Métis identity and heritage. As is all too common for Métis families, racism led to a disconnect between my family and my culture. However, thanks to genealogical research and archives, my mom was able to pull the threads of my family and heritage together. I appreciate that CMU didn't just accept me as I came into my Métis Mennonite identity, but was blessed to have friends and staff walking alongside me, encouraging me to pursue this, and supporting me.
My understanding of spirituality has expanded at CMU, as I've developed my relationship with Christ in community. This has happened over snack, in classrooms, and in the forest.
Preparing what I wanted to write today was a helpful thing to do, as we're in the part of the semester where it's easy to lose sight of the good things we've encountered here and just focus on surviving each day. I've come a long way, and as much as I will never miss how slow the last seven minutes in a class can drag on, I will never forget my love for this place and these people. I want to thank everyone for being a part of my journey: Maarsi and thank you.
Cassidy Brown is graduating this year with a Bachelor of Arts degree majoring in peace and conflict transformation studies.