It's no secret that university is expensive. Even though CMU does everything to keep costs low for their students, tuition, food, and extra costs all add up! Thankfully, CMU has many scholarships and bursaries to apply for to help you get the most financial help you can. Did you know that over 50% of CMU students receive financial assistance? The beauty of scholarships is that it's money that you never have to pay back, unlike government or provincial loans.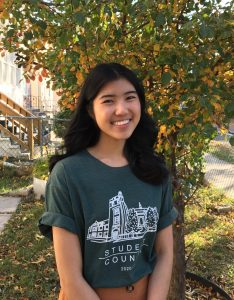 CMU's prized scholarship is the Leadership Scholarship, worth not $10,000 or $12,000, but $14,000! I took time to chat with Katrina Lengsavath, one of last year's winners, to ask some questions about what it takes to win!
Cassidy Brown: What pushed you to apply for a scholarship?
Katrina Lengsavath: I figured that any chance was a good chance! That was a big motivator. I think at some point almost every Grade 12 student gets bombarded with a notion of "you should start applying for scholarships," and so I did! Applying seemed like a natural part of that last-year-of-high-school experience, and I remember hearing a lot of talk about scholarships around school and watched my upper-years friends win them.
CB: What did you write about for your scholarship essay?
KL: I wrote about the artistry of leadership! I think the core of my paper came from what I valued in my own endeavors, and I tried to extrapolate on that to express how leadership – as something you can practice, refine, perform – can look differently for everyone. The big thing I discovered is that leadership isn't a one-hit wonder, and that it isn't something that we should expect of ourselves right away. It takes a moment to own how you communicate with others, manage a project, or take initiative, and eventually the rhythm finds you. I found the kindness, social awareness, and commitment to improvement were some elements of leadership I valued the most, and that guided my writing!

CB: How long did it take you to write the 1,000-word essay? Is it as daunting as it seems?
KL: I admittedly started my essay later than I should have and stayed up a lot later than I should have to work on it (but isn't it so peaceful to write when the rest of the world is calm?). That probably foreshadows an answer for you! Once I settled into my passion for this piece though, it was easy to keep writing and put my all into it. Some papers I write for my classes now are lengthier than any scholarship essay I've ever pulled off, and if anything, those applications helped build endurance. When it comes to scholarship essays, I appreciate a longer essay because it gives me more time and space to express and articulate my ideas.
CB: What advice would you give to those who may be unsure about applying?
KL: There are a lot of reasons why someone would be unsure about applying, and I faced my own hesitancies along the way. I applied for the Leadership Scholarship because at that point, I knew I really wanted to go to CMU, and it felt right to take a shot at such an opportunity. There were other applications I passed up because I knew I wasn't going to pursue a specific program or a specific institution just for the sake of meeting and maintaining their criteria – I just couldn't see myself there. But if you can see yourself there, that's a good thing! My advice to students who are feeling unsure about applying for scholarships – who might be overwhelmed about graduating, paperwork, and managing their time – would be to let yourself dream up that "what if" and invest that energy in giving yourself a chance.
Wow! Well said, Katrina. There you have it folks! Instead of hitting that continue watching button on Netflix, consider investing in yourself and your future by submitting your scholarship form today! Remember that you must have your application in as well, and the due date is approaching: February 28. Good luck and may the best entry win!
For more information, visit cmu.ca/future/financial/scholarships.
Cassidy Brown is a third year Peace and Conflict Transformation Studies student.