I'm sitting in Marpeck Commons (Folio Café, specifically) glancing out the lofty windows at the green-to-golden leaves that frame the stately castle on the north side of the campus. There's a perfectly poured vanilla latte in my left hand and a pencil in my right. I've got a reading from my Art of Worship class spread out on the table in front of me. It's discussing the beauty and importance of rituals, and I'm beginning to realize that my study sessions in this space, with a cup of coffee in hand, are a vital ritual for me throughout the school year.
Due to my Art of Worship course this semester, I've been dwelling on the concept of rituals. The significant actions and behaviours that I repeat week after week. These small actions make CMU feel like a space of my own, and add comfort and structure to my busy days. Today I began to wonder, what are my CMU rituals? Here's the list I quickly compiled…
Ordering a half-sweet vanilla latte from Folio at the beginning of a long study sesh, and then taking a photo of the latte because I'm a millennial comm-student (and because the baristas at Folio have some serious latte art talent)
Stopping for a conversation with Charlie Peronto, CMU's Residence Director, as I pass by his office on the way to my apartment. "What's the word?" he asks. Maybe the word is "Gilmore Girls", his adorable pup Rigby, how classes are going; anything!
Fall walks through the Assiniboine forest with my roommates, marvelling at the colour of the leaves and the sound of the songbirds, and enjoying a short reprieve from our books.
These are some of my beloved rituals I take part in at CMU, but I was interested in what my classmates had to say as well. Here are some of their sweet and quirky rituals they shared with me: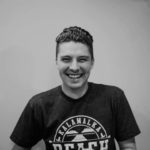 I wear one of my many sports jerseys on Fridays to men's chorus!
Ryan Waschuk, Music Therapy Student (1st year Music Therapy, 3rd year at CMU)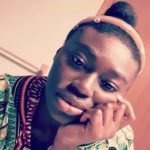 My CMU ritual would have to be keeping myself busy after class in Marpeck every Tuesday afternoon. Or buying a London Fog from Folio before my morning lecture!
Joycelyn Ofori, Psychology Student (2nd year)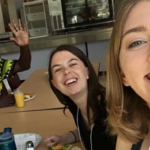 As a commuter, I spend a lot of time studying in Marpeck Commons. I always go for a green chair if there's one available.
Marnie Klassen, Interdisciplinary Major (3rd year)
As we go through the various academic "seasons" that come with a university experience (projects, readings, midterms, exams, performances, travel) it is comforting to rest in these rituals. To do them consciously and mindfully. To drink that London Fog slowly, to lay out that sports jersey every Friday, to seek out that green chair in the library.
So here's to our rituals, to the actions that make CMU a place of our own!
– Chloe Friesen, 2nd year Communications and Media student