I remember being in grade one, sitting at the kitchen table doing my math homework with my sweet grandma, or "Khun Ya." Helping me in her lingual mosaic of Thai and English, we added and subtracted pencils, beads, and tamarind seeds. We snacked on pieces of fruit as we drew tallies and diagrams to practice my arithmetic after school.
I remember my grandpa, my "Khun Pu," a man of few words, who would eagerly sit counting trains with me and my sister as they rumbled by the window of my grandparents' seniors apartment. He taught me how to fold paper airplanes and boats, showing me how to achieve crisp, precise creases with the edge of my thumbnail. He emphasized to me that experts who designed these vessels for a living must also be very precise in their calculations and very smart.
These are the memories that come to me when I ponder my early encounters with mathematics. Math and science were my favourite subjects during early school years, until I got my hands on chapter books. Storytelling and writing quickly became STEM's rival in my life.
A familiar stereotype is that many Asian immigrant parents have persuasively prophetic voices over their children's career paths, considering "doctor, lawyer, dentist" as the sacred trinity of occupational options. Other acceptable paths may include becoming a nurse, pharmacist, scientist, or engineer. Many Asians end up in such professions.
According to Joan C. Williams et al. in The Atlantic, "…this belief has pervaded American pop culture and media for decades…Since the stereotype ostensibly is a compliment, there's a temptation to think that pursuing careers in science, technology, math, and engineering is easier for Asian Americans." At the end of the day, after our families struggled, escaping or immigrating to North America for safety or the potential of success, they want to see their kids succeed in the Western world.
Despite this stereotype and the prevalence of Asians in the sciences, Asians are disproportionately unacclaimed in these fields. How does this dichotomy exist?
Standards set by the National Institute of Health say people who identify as Asian overall are not underrepresented in STEM.* Research spearheaded by Yuh Nung Jan, professor and Howard Hughes Medical Institute investigator at the University of California San Francisco, found that "Asian Americans, who make up about 7% of the U.S. population, are overrepresented in biomedical research in the United States, making up more than 20% of the field's researchers. Yet [Jan] found that Asian scientists have received just 57 out of 838 [prestigious science] prizes included in the study, which only looked at American awards. Asian women scientists have fared far worse, receiving less than 1% of the prizes."
More broadly, in a study conducted by the National Science Foundation in 2015, only a mere 4–6% of degree holders in science and engineering are BIPOC women and men, and such degree holders from BIPOC minority groups were less likely to receive federal grants or contracts than their White counterparts within research-intensive institutions.
This gender and racial disparity in STEM shows up in my education. I learned much about Austrian monk Gregor Mendel and his pea plants and Alexander Fleming for his discovery of penicillin, the very first antibiotic. Comparably, it wasn't ages ago that Watson and Crick were called out for taking more credit than they should have for Rosalind Franklin's confirmation of DNA's double-helix shape. Further, many science students have probably studied Okazaki fragments in their classes. How commonly do people know that they were discovered in the 1960s by Tsuneko Okazaki, a molecular biologist and Japanese woman?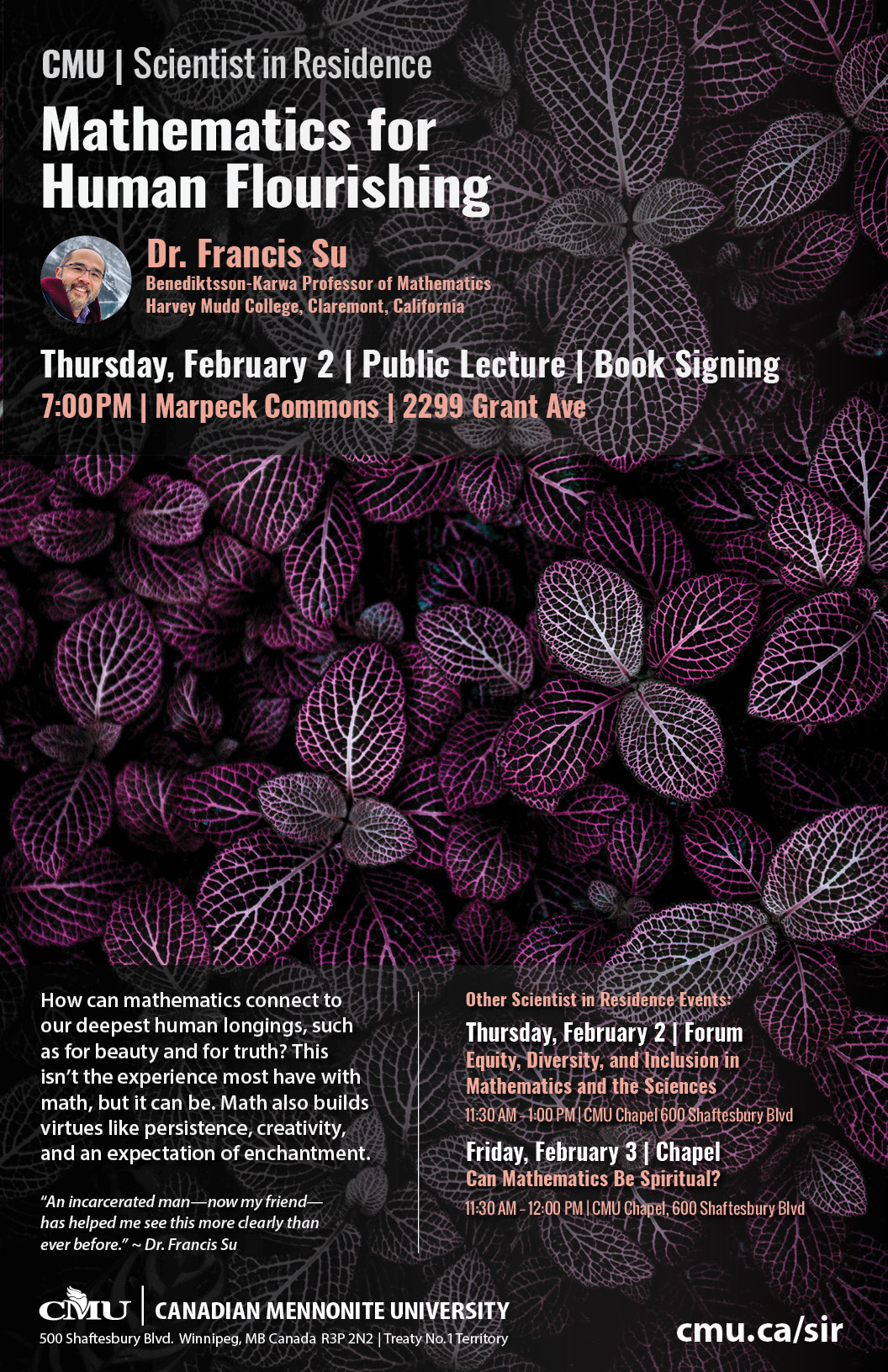 Since the days of counting mandarin oranges at the kitchen table with my Khun Ya, I have grown into a young woman of colour pursuing sciences. I am currently a student serving on CMU's faculty-run Science and Faith Initiatives Committee, and I'm thrilled that we are welcoming Dr. Francis Su into the CMU community as the very first BIPOC Scientist in Residence.
Dr. Su is an American mathematician, Benediktsson-Karwa Professor of Mathematics at Harvey Mudd College, former president of the Mathematical Association of America, and author of Mathematics for Human Flourishing. I'm looking forward to his discussions on the challenges and opportunities for equity, diversity, and inclusion in mathematics and the sciences. How can we make STEM spaces more just for everyone? Dr. Su will also illuminate the beauty and humanity of mathematics helping us all flourish. I would encourage everyone to check out this year's Scientist in Residence lecture series at CMU.
I never had to be convinced to like school or studying, and I was naturally inclined towards STEM. I am one of many other first-generation anomalies who never actually felt stereotypical pressure to become the Asian "doctor, lawyer, or dentist" growing up. What does it mean or represent, when I get to choose my fate and go into STEM, anyway? Dr. Su's op-ed in the Los Angeles Times on the gender gap in STEM asserts how, "…a healthy diversity of deserving winners represents a community's visible commitment to encouraging its least visible members, who may one day do great things."
BIPOC individuals and women choosing to go into STEM, whether honourable or onerous, face a glass ceiling of systemic and social biases that hinder access and recognition for excellence in STEM. I don't know if immigrant or BIPOC grandparents all over the world would have imagined that their grandkids, who they tutored in arithmetic with spoons and raisins in a country and language new to them, would grow up to choose the art of sciences. Students like me depend on initiatives that highlight and pay respect to the STEM achievements of ethnic minorities. Without a doubt, our successes will be their success story, too.
Katrina Lengsavath is a third-year Bachelor of Arts student, majoring in Arts and Science with concentrations in biochemistry and music. She also co-leads the CMU Science Students' Association. Her writing here was inspired by Dr. Su's op-ed in the Los Angeles Times.
* Some Asian subgroups may be underrepresented, such as Southeast Asians and Pacific Islanders. This observation from the National Institute of Health is based on an amalgamation of all Asian groups.