CMU would not exist without the generous support of our donors, and for them we are so incredibly grateful. Many students rely on and benefit from financial aid, and every year CMU celebrates the people and organizations who make this aid possible! This wonderful speech was given by 3rd year student Marnie Klassen, who thanked our donors on behalf of the students this past Tuition Freedom Day. Enjoy!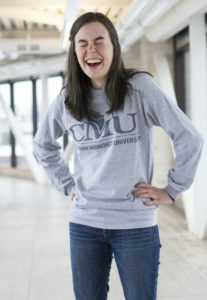 Nearly three months ago, I sat behind the steering wheel of my friend's car, driving towards Winnipeg after a summer home in BC, and listening to an interview with social researcher Brene Brown. She was talking about true belonging and said, "Fitting in is when you want to be part of something. Belonging is when other people want you."
I grinned at the passing prairies because I knew that was exactly what I was returning to.
CMU is a place of making connections, and a place of belonging. I'd like to tell you a bit about my experience with these things, and how being able to make connections has created a space of belonging for me.
I arrived at CMU two years ago, pretty sure that I knew what I was doing. I would major in Communications and Media, and double minor in Biblical and Theological Studies alongside Peace and Conflict Transformation. Yeah…that didn't happen. After a few classes, it was clear which conversations made me come more alive. My plans were upturned.
Since abandoning my 18-year-old-self's plan, something miraculous has happened – I have begun seeing and making connections. What does this look like exactly?
Technically, it means that I'm pursuing an interdisciplinary degree in Social Theology with a communications minor. But technical terms don't tell you much—let me instead tell you what I've experienced here at CMU.
I lived in dorm for two years, and was drawn into a community full of commonality and difference. A few months into my time here, I found myself a part of a group of friends all studying different things—there was the composer, the music therapist, the philosopher, the poet, the peacemaker, among others. There we were, sharing cafeteria meals and constantly gleaning from each other's learning. I still sometimes forget that I did not, in fact, take Business Ethics last year, for all of the wonderful and intriguing tidbits that permeated dinner conversations.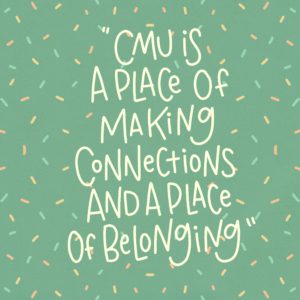 I didn't only eat with peers. Eventually I began eating a lunch or two a week with professors, and realized that not only was I developing relationships with them and the ideas they brought to the intellectual table, but they had their own relationships that they were happy to welcome me into. I would eat quiche with faculty members Kenton Lobe and Chris Huebner, and would be drawn into conversation not about sustainable development or Michel Foucault, but about cyclocross racing. The people and ideas I was dovetailing with were also constantly connecting.
The real learning came when the connections began to move from conversation to classroom to experience.
In Introduction to Sociology, I wrote about bicycle commuting, interviewing three winter cyclists from Winnipeg and postulating that their interaction with their place increased the ways they were able to build social relationships, rooting their identity as neighbour in their concrete neighborhoods. At the time it was very theoretical for me, as I felt I did not have a neighbourhood, living at CMU and all, and I was not a cyclist. Months later, in The Study of Voluntary Simplicity, I took up a simplicity practice. In an effort to discover what this simplicity business was all about, I began to spend time outside every day. Suddenly I had a neighbourhood. The trees of the Assiniboine Forest and the deer prancing frantically across Grant Avenue were my neighbours, inviting me into their space of belonging.
This fall, I am living off campus for the first time, and while my academic work is still significant, I wonder if my most important work is not my walk to and from church each week. The theoretical learning in which I partook a year ago has translated into the way I live my life with others, the very grounding notion of belonging in a neighborhood, to a community rooted in its place.
This is not a small thing. Entering a space at CMU where I can make these connections between disciplines, and between academia and my own life has allowed me to find a space of belonging. Coming from three provinces away, it is no insignificant feat to build a home in a place. And yet that is what I have been enabled to do here. I keep coming back to a line from a friend's thesis which she presented two years ago. She wrote, "Learning is a practice in community," and I think that's exactly right. We would not be able to learn and become in the same way in isolation.
And so, dear donors, government, and churches, thank you. Thank you for making possible this space where not only can we students learn to read and write and study well, but where we can make connections to the other parts of our lives and learn to belong to each other. Thank you for your prayers, your participation in our community, and your generosity of heart and resource. May we receive these gifts well and continue to create spaces of belonging, as might fit in the Kingdom of God.