Dear Blog Reader,
Are you THE Christmas Music Master? There's only one way to find out. Take thirty seconds on each picture, and try to guess what song it is. Then once you've gotten through all twenty four pictures, check your answers! The original picture can be found here.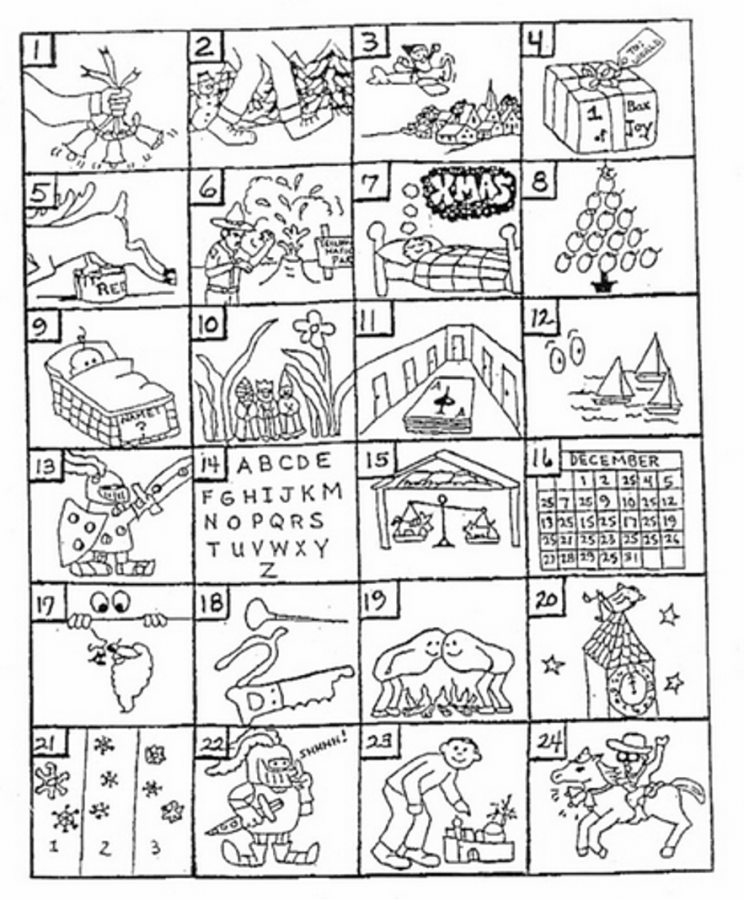 Every Christmas Break, my friends from the neighbourhood get together for a Christmas sleepover. We watch movies, eat a lot of good food, and catch up from not seeing each other since last Christmas. It's become a tradition of sorts, and this year I was so disappointed that I wasn't going to get to laugh till I cried, or do anything Christmassy with them.
But, luckily I have friends who are more creative than I am! I joined the Zoom call, and after decorating cookies together for a while, my friend pulled out a few Christmas games to play. The picture above was one of them. She had put them into a powerpoint, and as we frantically wrote down our guesses, yelling at each other throughout it all, it almost felt like we were in person together.
And so, this Christmas I would encourage you to be creative! Find weird but fun things to do with each other virtually. Maybe that means challenging your friends to a game of "guess that Christmas song", or it means making some fudge to deliver to your friends in person yet from afar. This Christmas won't be the same, but here's hoping that you can find a way to be creative!
Below are the answers:
1. Jingle Bells
2. Walking in a Winter Wonderland
3. Santa Claus is Coming to Town
4. Joy to the World
5. Rudolph the Red Nosed Reindeer
6. O Come All Ye Faithful
7. I'm Dreaming of a White Christmas
8. O Christmas Tree
9. What Child Is This?
10. We Three Kings
11. Deck the Halls
12. I Saw Three Ships
13. Oh Holy Night
14. Noel
15. Away in a Manger
16. 12 Days of Christmas
17. I Saw Mommy Kissing Santa Claus
18. All I want for Christmas is my Two Front Teeth
19. Chestnuts Roasting on an Open Fire (The Christmas Song)
20. It Came Upon a Midnight Clear
21. Let It Snow, Let It Snow, Let It Snow
22. Silent Night
23. O Little Town of Bethlehem
24. Silver Bells
Natasha Neustaedter Barg is a fourth year Social Sciences student.