Part 1 – Hope: A Family Down the Hallway
I believe international students experience dorm-life differently from Canadian students. And while the majority of it has been amazing, there are some parts of it that have been less than.
My fellow Canadian students are blessed to have family nearby who they can run to when student life gets frustrating. Time and time again, I've watched students vacate their dorm rooms to spend the weekend over at their families' and my roommate and I are left with an almost empty hallway filled with silence.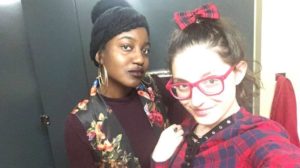 Moreover, while I have adjusted well to the food on the meal plan, I do remember past years where I had to force myself to eat food that I was not accustomed to. Fast forward to today, I actually enjoy the cafeteria food! Who would have thought? Regardless, Inda and I still spend most of our money on "SkiptheDishes" (more than we would like to admit).
However, there are numerous advantages I enjoy about living in dorms. One of my favorite things that I love about living in dorms is in accordance with CMU's mission statement: COMMUNITY. Aside from my roommate, we have a tiny community right outside our room in the hallway.
My best memory of dorm-life is from my first year at CMU. I was the only international student in my 'hallway community' and I had prepared myself to be an outsider. Can you blame me? Being the only black girl, from a completely different country, with a different accent and a different idea of 'fun'. I was no stranger to wandering eyes and blank stares trying to understand me before, so why would this time be any different? Boy was I wrong! The CMU community within our hallway became my Canadian family. We had weekly meetings that each had their own fun surprises (thanks to our Residence Assistant at the time), study dates in the lounges, movie nights, lots of dance parties, etc. Before I knew it, we were so close that we had our own special table in the cafeteria—a bit extreme maybe, but that is how close we were. Truly the best experience I've had at CMU so far.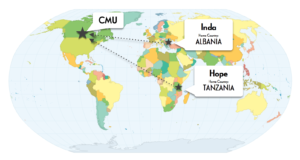 But wait, there's more! Tons of activities/events get you out of your room and engaging with other human beings. Dorm activities range from themed tea parties to playing (mostly harmless) pranks on each other. I speak for all university students when I say that it's extremely easy to get caught up in the hustle of school and work. Finding time to relax and enjoy university life becomes difficult. Having RA's and dorm-room friends that hold you accountable or even drag you out of your room to participate in ongoing activities is refreshing and much needed.
Furthermore, living in dorms allows me to learn from others while giving me a chance to teach others about my cultures and my individuality in a more personal environment where we learn to understand and accept our differences. I cannot count how many times I sat with a group of people basically giving a tutorial about the trials and tribulations that is my hair and vice versa. I've come to find that staying in dorms gives me the ultimate and rich university experience.
Hope Mwalugaja is a 4th Year International Development Studies Major from Tanzania