"I've been so stressed out this week!"
I hear myself make this complaint on an almost weekly basis, you probably do to. And then enters the quintessential, but thoughtfully caring response of…
"Make yourself a cup of tea! Watch some Netflix! Put on a facemask and take a bubble bath! Plug in some twinkly lights! Practice some self-care."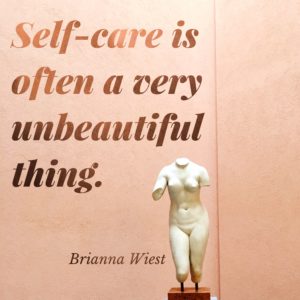 The concept and aesthetic of self-care is a beautiful and "Instagram-worthy" thing (#selfcare, you've all seen the hashtag, maybe you've even used it once or twice…), but I've been starting to wonder: should it be? Tea, Netflix, facemasks, bubble baths, and twinkly lights are all wonderful things that no doubt promote some aspect of relaxation. But some part of me believes that true self-care can't be this easy.
It was an article by writer Brianna Wiest that piqued my skepticism.
"Self-care is often a very "unbeautiful" thing.
It is making a spreadsheet of your debt and enforcing a morning routine and cooking yourself healthy meals and no longer just running from your problems and calling the distraction a solution.
It is often doing the ugliest thing that you have to do, like sweat through another workout or tell a toxic friend you don't want to see them anymore or get a second job so you can have a savings account or figure out a way to accept yourself so that you're not constantly exhausted from trying to be everything, all the time and then needing to take deliberate, mandated breaks from living to do basic things like drop some oil into a bath and read Marie Claire and turn your phone off for the day.
A world in which self-care has to be such a trendy topic is a world that is sick. Self-care should not be something we resort to because we are so absolutely exhausted that we need some reprieve from our own relentless internal pressure.
True self-care is not salt baths and chocolate cake, it is making the choice to build a life you don't need to regularly escape from.
And that often takes doing the thing you least want to do."
– Excerpt by Brianna Wiest from This Is What 'Self-Care' REALLY Means, Because It's Not All Salt Baths And Chocolate Cake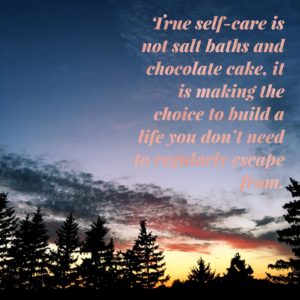 For me, self-care is making an appointment with my therapist to talk about the tough stuff going on inside my brain. It's setting an alarm on my phone to remind myself to take my medication. It's picking that pile of laundry up off the floor and then washing, drying, and folding it. It's confronting my stress head-on, not staring at a screen to numb it.
It's far from beautiful and far from being "Instagram-worthy," but it's miles closer to actual "care" than a facemask and bubble bath will ever be.
So here's to true self-care: the unbeautiful, difficult, and worthwhile thing it really is.
– Chloe Friesen, 2nd year Communications and Media student