City Workers in Love snuck up on me. I had no idea what I was getting into when I auditioned for this little comic opera by Neil Weisensel. With a concentration in Vocal Performance, I knew I needed the credits, but I had no idea the hours I put in to earn them would be some of the best, the most fun, most rewarding of my years at CMU so far.
If you've never been involved with the production of an opera, I'm not sure I can truly communicate the massive effort it takes. As both a cast member and a production assistant on this show, I got to know it from every angle. I learned my music, and by osmosis, almost everyone else's. I memorized how to move and when, painted set pieces, made props, took notes in rehearsal, put together costumes, and the list goes on.
But what a list of tasks and projects doesn't show is all the relationships which were built and shaped through the work on this show.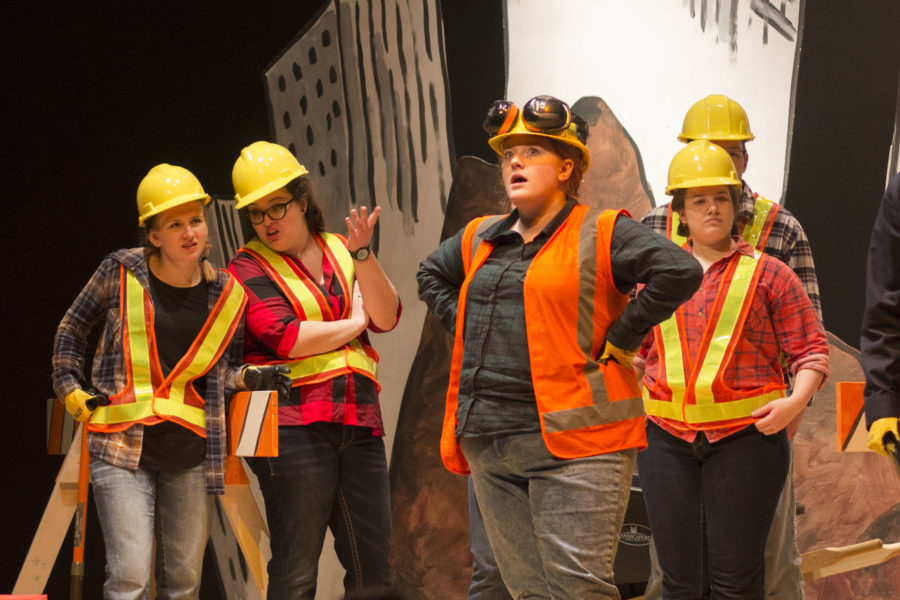 First, there was my character. I had to discover who she was: her past, her mind, her relationships, even her physicality. She is still in my head—even now I find myself listening for Mavis' reactions to the things I encounter in my daily goings-about. Mavis taught me new ways of seeing people with grace and to take myself less seriously sometimes.
Then there's our director. Without David Klassen this show would never have happened! He brought light and warmth and patience into our rehearsals. He expertly saw potential in each cast member, a set design in a poster and an empty stage, and movement in stillness. He made the Laudamus Auditorium on Friday afternoons a safe space, giving us permission to feel and move and make mistakes as we learned about ourselves, our abilities, and each other.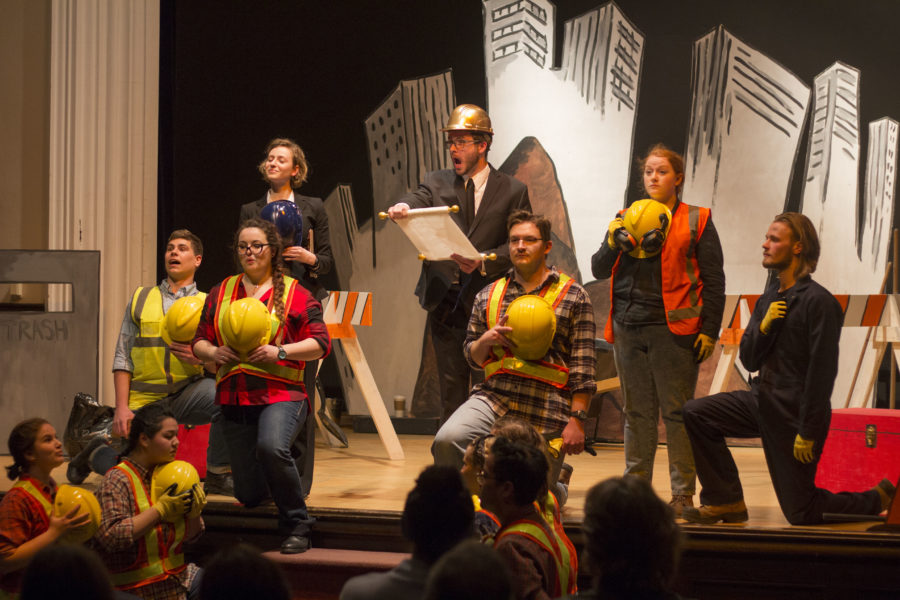 And where would I be without my fellow cast members? One of the recurring lines in City Workers in Love, the mantra of the street crew, is, "We are family." Over the course of the year this became truer and truer. In our small yet hardy cast, each voice mattered greatly and each distinct personality coloured the atmosphere. The more we learned to blend our voices and our natures, the closer we became. To sing is so deeply personal in the first place—your instrument is your body, your self—and to share that personal work in such intense circumstances speedily forges a bond that's not easily broken.
In the last two weeks of preparation I hit my stride. Every moment I could spare was spent on opera, either in a determined rush to put together the final details or contentedly dwelling in the joy of the process. This show left its mark on me. Even as I write this I still find bits of paint stuck in my hair, and I feel almost like a proud mother, changed and affirmed by a product of my effort which took on a life of its own.
Katy Unruh is a 4th year Bachelor of Music student focusing on Vocal Performance and Music Education