It's nearing the end of the break before the winter semester begins, and it's a bittersweet time. My family took down our Christmas tree just yesterday, and the student classifieds page on Facebook is sending me notifications about used textbooks for upcoming classes.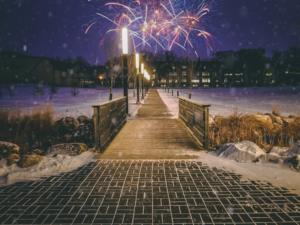 But as family and friends have been asking me about university, I've found myself continually saying that I truly cannot wait to go back. To step back into the warm and welcoming arms of the CMU community, to begin wading into new ideas and new appreciations and new revelations, to sip coffee and have sincere conversations, and to spike a volleyball or two in between it all. CMU is such an easy place to miss.
And it's strange to me, the idea of me not going to school at CMU. Of missing out on all of the goodness that CMU has shared with me over these years. The fact that people can drive through Grant and Shaftesbury and not be filled with memories and inspiration is something I am continually trying to wrap my head around. With one different choice or turn or decision, I could've missed out on CMU. And I'm so grateful that I didn't.
So, to conclude this jumble of sentiments: CMU is such an easy place to miss, and it's a place you certainly don't want to miss (if that possibly makes any sense). I cannot wait to see all of my classmates, friends, and professors once again. And, if you're contemplating joining us one day here at Grant and Shaftesbury, I hope I'll see you soon, too!
Chloe Friesen is a 3rd year Communications and Media student.