As I took the stage for my final performance at Christmas at CMU, I wasn't sure if it was all real. Who would have known that five years after starting at CMU I would still be in choirs even though I was not a music student? I guess singing has always been a part of who I am and how I wanted to spend my every day.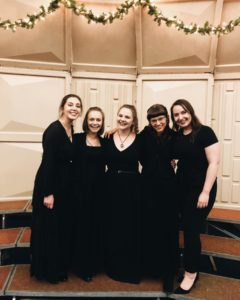 Singing in choir and, to be honest, everything about my time at CMU has seemed really natural. It hasn't been dull or unengaging, but natural in the way that I know CMU was where I was supposed to be. I stayed in choir for all five years of my degree because, even though I am not a music student, I found a community in choir. I found a place where I can express and be who I am.
Being a part of the CMU choirs gave me a space to grow and learn in ways that are not possible in a classroom. I learned what it means to be a part of a cohesive team that only works when each member is contributing. Everything I do or do not do affects the choir as a whole.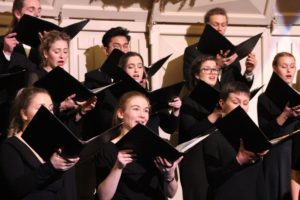 Understanding and learning about my role in this community has also taught me that I cannot just worry about myself. Being a part of such an intricate community meant I had to learn that what I do matters but what we do together matters more. This was so important to understand especially in the preparation for Christmas at CMU.
At first, singing at Christmas at CMU felt like a job. I would get exhausted thinking about having to perform the repertoire eight times and for two different choirs. In the end, though, I was always sad that it was over. But this feeling never stayed for too long because I always knew that there would be next year.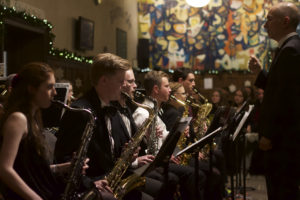 This year I had a similar feeling, but when it was over, I felt a different kind of sad. The only way I can describe how I was feeling is the German word verklempt (which means being overcome with emotions). I was overwhelmed with sadness that my days performing at Christmas at CMU were over because I'm graduating this year. But I was also overjoyed to have had the opportunity to sing in such amazing choirs and to be a part of such a beautiful event. I was also super excited to be able to come back and listen to the choirs and get to hear the high descants during the carol sing instead of sing them.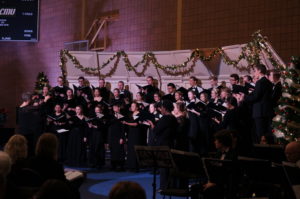 With my emotions in tow, I left Christmas at CMU grateful for the spirit it gave me, the people it surrounded me with, and the music that fed my soul.
– Emily Hiebert, 5th-year Social Sciences student