Come one, come all, to the CMU Opera and Musical Theatre Workshop's production of Godspell! Directed by David Klassen, this production features scenes and musical numbers from the hit Broadway musical, which is based on the gospel of Matthew and features disciples who belt out some serious ballads.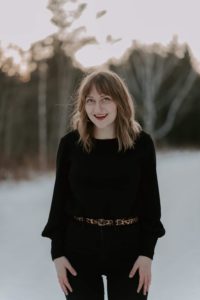 I sat down with one of these disciples, Joanna Loepp Thiessen, to talk about Godspell and why you must see this show! Joanna is a third-year transfer student studying voice performance in CMU's music department.
So Joanna, tell me about your experience with musical theatre prior to taking CMU's Opera and Musical Theatre Workshop course.
I have done musical theatre before, and have in fact been in a production of Godspell nine years ago! I was part of a production of the show at my high school, and now it's back in my life! It was one of those cute little high school productions where we had like, fifty people in it, and there were twenty-five disciples. I played one of the disciples and sang a duet with my sister. I had about two lines.
Wow! So you really know this show well! What character will you be playing this time around?
Now the way Godspell works is that the names of the characters are just the names of the original Broadway cast, so my character's name happens to be Joanne, to keep it simple. Joanne… Joanna… it all lines up. She is a funky, spicy person who is one of the disciples.
The connections just keep getting better and better. I think you were made for this show AND this role. What have been some of your favourite parts of being part of this production of Godspell?
I have loved getting back into acting, since I haven't done it since high school. It's been really fun working with David Klassen (director) because his stagecraft skills are incredible, and he has this ability to make beautiful pictures with people's bodies. So I've really enjoyed working with him, and exploring a different type of music from what I usually do in the music program. There's a bit of every sort of music style in the show.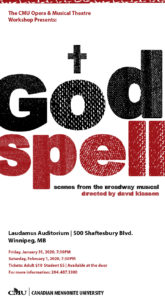 Who should come see Godspell?
Godspell, and especially this production, is for EVERYONE. It's a family-friendly production. It would absolutely appeal to kids, it would appeal to adults, it would appeal to youth and young adults. We're trying to make this production that was once this flower-child, seventies vibe into something that's really relevant for our current time.
Thank you so much Joanna! Break a leg!
Chloe Friesen is a 3rd year Communications and Media student.
____________________________________________________
Get your tickets to Godspell:
Friday, January 31 at 7:30 PM
Saturday, February 1 at 7:30 PM
Laudamus Auditorium, 500 Shaftesbury Blvd.
Adult: $10 Student: $5
For more information, call 204.487.3300