CMU does things differently. If you've worked here, studied here, or even just visited campus, you know this is true. And one of these things we do differently is tuition.
When I first heard about Tuition Freedom Day in my first year of studies, I was confused by the event. Didn't students here just pay tuition for the year and continue on like every other university? The answer was of course, no, because CMU does things differently.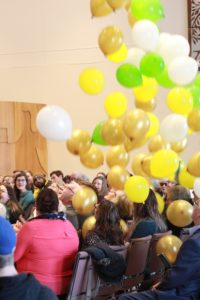 Tuition Freedom Day marks the end of the fiscal year that is paid for by student's tuition, and celebrates the beginning of the year that is paid for by grants and donations from the Manitoba government, churches, and individual donors. And so of course, in CMU fashion, we have a party to celebrate and thank the lovely people who make our educations possible through their generosity!
Some highlights of the event include addresses from church representatives, alumni, students, and donors, music from our ever-talented crew of music students, and FREE pizza!
It's a heartwarming event, and my favourite part has always been watching the donors interact with the students during lunch. They see the learning, discovery, and growth of our student-body, and it's our chance to thank them for making it a reality.
So come on down to the CMU Chapel on Wednesday, November 20 at 11:30 AM, and let's all celebrate Tuition Freedom Day together!
– Chloe Friesen, 3rd-year Communications and Media student