Ahh, exam season. The hustle and bustle of students in and out of the library, the furious flipping of notebook pages, the smell of coffee and stress-sweat in the air…
Yeah, it's not always the prettiest picture. But look at us go, making it through successfully, year after year!
I don't want to say that I've mastered the art of studying (is that even possible?), but I have my weird ways that work best for me. And it was only when I realized that I don't have to study exactly like the person next to me at the library that exam-prep became easier.
I was in Folio Café this morning, working on my precious flashcards (my personal go-to study method) and drinking too much coffee, and began wondering how the people around me hit the books.
So I asked! Here are some of the weird ways that CMU students like to study:
"Invest in a whiteboard! I love whiteboards. Drawing pictures and diagrams helps me a lot." – Jadyn Lennea
"I choose one song I love and then put it on repeat. That way I don't get distracted by new songs and playlists." – Levi Klassen
"What I usually do is read something, distract myself for a few minutes, and then see if I can remember what I read. If I can't remember it, I read it again." John Nieckarz
"I throw on some of the thrashiest punk music I can find and zone out with my textbook." Myles Tiessen
"I just do it." – Nicholas Willms
"Summarize your notes on single sheets of paper, because an entire notebook is overwhelming." Emma Heinrichs
"Put on a funky tune, guzzle some coffee, and rewrite your notes, condensing them each time." Andi Jacobs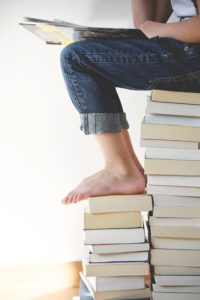 "Being outside if I can is great. I love the sunshine and feeling like there's more to the world than just my desk." Jacoba Buist
"Sometimes when I'm memorizing something, I make up a song! I don't sing it very loudly though." Anne Kelm
"I study in the morning so once I hit noon I feel super accomplished." Renee Desroches
"TAKE BREAKS. I take outside breaks, I take coffee breaks. Combine the two for an EXCELLENT BREAK." Madeleine Friesen
Best of luck to you all as you prepare for exams, in your own weird ways. Who knows, maybe you'll find the key to study-success by trying out one of these student-approved strategies!
Chloe Friesen, 2nd-year Communications and Media student