CMU's North Side has a fourth floor?
It certainly does, and it's called The Centre for Resilience, a space that CMU students Mackenzie Nicolle and Jeremy Dyck spent a lot of time in this past semester.
Nicolle and Dyck are the self-professed "guinea pigs" of the Social Innovation Lab: brain-child of James Magnus-Johnston (CMU's instructor of Social Entrepreneurship and the director of the Centre for Resilience).
The Centre for Resilience is a "co-working lab for civic-minded social innovators, entrepreneurs, and researchers" (Centre for Resilience website). Creative entrepreneurs can rent out desk space and collaborate with each-other and enlist the help of enthusiastic students completing their practicum. (Did you know that every CMU student completes some sort of hands-on work practicum before graduating?)
I sat down with Mackenzie and Jeremy to chat about their projects, experiences, and the space they work in.
Tell me a little bit about the class you're in and what it entails!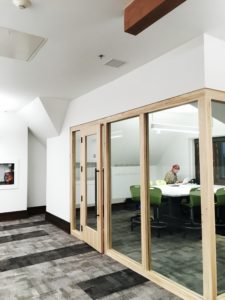 Jeremy: So we're in the Social Innovation Lab, that's what the class is called, and it's run out of the Centre for Resilience. It's kind of like a consulting/mentorship hodgepodge/cornucopia, a little bit of everything. We're working with the organizations that are up here at the Centre of Resilience and identifying some of their challenges and working on them in the time that we have.
Mackenzie: It's a practicum course, and we've decided that we're going to be evaluated based on how well the stakeholders feel that we've done for them. At the end they write a letter of recommendation. There's no grade, it's a pass/fail course. What we get out of it is the experience and letters of recommendation, which look very nice for prospective employers.
Could you tell me about the organization you're working with and the projects you're developing?
M: The two of us are working with Compost Winnipeg, which is a branch of the Green Action Centre. They are a social enterprise, and they're planning on building a compost site on CMU's campus! They're hoping to start in the spring of 2019, so our position was to try to get an idea of how people in the area and people at CMU felt about the project, as well as any concerns they may have.
Because there have been previous groups that have composted in Winnipeg and have done it incorrectly, we wanted to get rid of a lot of the stigma that surrounded composting and to educate people about how it's being done differently here.
Any stories or experiences that have stood out for you two?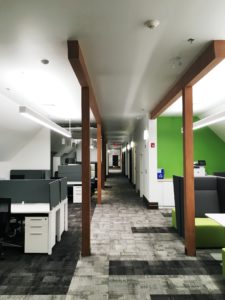 J: We did a community survey door-to-door, down Shaftesbury and around the neighbourhood. And that was sort of interesting, to be soliciting people for information. They were surprisingly receptive, that was a nice surprise! I did get one house where I was walking up to the door and saw someone in the window. He was obviously there when I rang the doorbell, but then I heard the door latch lock, so he wasn't interested in taking our survey… *laughter*
M: There was another house I went up to and a woman opened the door. I had three short questions for her. So I gave her a little blurb about how we were CMU students and that we'd like to engage in a conversation, and her assumption was that I was coming to talk to her because I was against composting. Because obviously nobody wants a compost site near them, and that's why you're talking to me, right? *laughs* So I was like no, I'm just trying to gauge what people's reactions are. And then she got very actively angry about composting. It smells and nobody wants this, and why would you do this, and so on. And then her husband came to the door and the wife walked away. But then he was a lot more receptive when I explained to him the idea of an eco-drum, which is a large cylinder that helps regulate the temperature and the speed of the compost. It's enclosed, has no smell, and he was a lot more receptive to that. It's interesting to see how people's opinions differ based on their prior knowledge.
How would you say this course differs from other courses you've taken at CMU?
J: I wouldn't say it's night and day, but it's pretty close. The fact that there's no grade at the end sort of implies that it's really hard to measure success, and that's because our projects are so different. It's pretty cool to have a say on what you want to work on, because we were collaboratively with organizations to choose what we want to do, to actually discover what would be the best thing to do for them after analyzing their situations. So it's been a lot of fun. I appreciate being able to exercise my creativity.
M: Part of the reason we don't do grades is because we want the opportunity to fail. So that if you try something and it doesn't work, that's fine. And then you can renegotiate, research some more, and come up with another idea. And since this is the first time that students have been working with anyone here, we're the guinea pigs trying to figure out "what does this class look like," or "what's successful, what's not successful…" It's a good challenge!
Everybody talks about how beautiful the fourth floor is. Tell us about this space! What is so wonderful about working in the Centre for Resilience?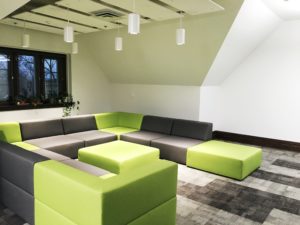 J: It's bright. The vibe is a little different, a little more energetic.
M: Right now it's a very hopeful space. There's a lot of people starting off and moving in here. There's a lot of energy, it's a different type of energy than school. University has the waves and the seasons of academics, and up here, this is a work environment. And everyone here is doing a unique project, but are still able to talk to each other. The space is still kind of blossoming. I keep telling everyone that the chairs are my favourite part of this space.
J: The chairs are sweet.
M: They are sweet chairs.
Anything else you'd like to say about the Social Innovation Lab?
M: This is an experimental class. It's kind of James' baby coming to life. It's fun to see how excited he is about the projects, what he likes and what he doesn't like. He's a third party in all these projects. He's someone we can rely on and bounce ideas off of. He guides us and he guides them. This class is about helping us figure out what works and what doesn't. It's a great experience to be able to work with him.
Mackenzie Nicolle is a 4th year Social Science major and Communications minor
Jeremy Dyck is a 4th year Business Administration major