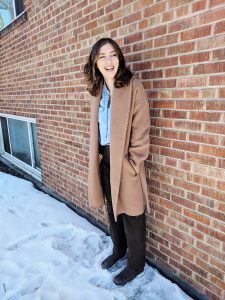 And just like that, it's the beginning of another year at CMU! The leaves in Assiniboine Park are turning all sorts of lovely colours, Fall@CMU is right around the corner, and planners are excitedly being filled with assignment due dates. Welcome back everyone! This year is going to be a good one, I can feel it.
I should probably introduce myself, as I'll be the primary blogger for #myCMUlife this year!
Hello! My name is Chloe Friesen, and I'm a second year Communications and Media student here at CMU. But there's much more to me than my area of studies (although I do have a passion for Comm and Media, that's for sure). So, here are 10 Fun Facts About Me:
I was born and raised in Morden, Manitoba. Home of the Corn and Apple Festival, giant aquatic dinosaur statues, and the cutest downtown you ever did see! I love Winnipeg, but I'll always be a small-town prairie girl at heart.
As you can likely guess from my last name, I grew up in the Mennonite tradition. I've loved the opportunities I've been given to explore my heritage here at CMU, yet, I still don't like perogies…
This year you'll find me living in the Katherine Friesen apartments, but I lived in good ol' Poetcker Hall during my first year. Being a residence student has definitely shaped my university experience for the better, and CMU truly feels like home!
My favourite thing about living in Winnipeg is my proximity to Stella's (I'll take the Mexican Breakfast, please…).
I'm on the volleyball team here at CMU (GO BLAZERS!) and love being a student-athlete!
My favourite study-spot on campus is at Folio Café. And speaking of Folio…
I LOVE COFFEE. You know how everyone says that you'll start drinking coffee in university and then never stop? Yeah. That's entirely true. My go-to order at any coffee shop is a half-sweet vanilla latte (order one at Folio, you won't be disappointed).
I attended the Canadian School of Peacebuilding this past summer and explored the role that art can play in peacebuilding efforts in a course called "Arts-Based Approaches to Peacebuilding". It was an invaluable experience, and I find myself applying the lessons I learned in every class I've taken since!
I have a tattoo of a carrot on my inner right ankle. It symbolizes being rooted in the Lord, growth, and my enthusiastic love for vegetables and gardening.
Instagram is my favourite social-media platform, and you might see me take over the CMU Admissions story once in a while (@cmu_admissions)!
Thanks for reading! I'm looking forward to giving you an inside look into life at CMU this year, because it's pretty great, I'd say!
Chloe Friesen